No.
I think that answers the question. No we don't. But allow me to explain.
Last week, Joe sent me a text whilst I was at work saying he had a very expensive present for me waiting in the lounge for when I got home.
Obviously giddy as anything thinking I was getting a pug  puppy or something – note to self, this will never happen *cries*– I rushed home from work and was actually super chuffed to find this Mongstad mirror in the living room.
We'd seen it in Ikea a few weeks back whilst scrounging the sales (So much that I wanted! Wish I'd bought more!) and Joe had since gone back to get it for us.
(Although I'd normally argue that we have enough mirrors from Ikea already, this one we've been eyeing up for ages. Thanks Joey!)
Naturally I took a few pictures. The fact that I had to take 2 photographs to get the full length of it in will hopefully show the sheer size of it!
It's a lovely dark brown wood – like the rest of our lounge furniture – and I personally think it's gorgeous. And don't worry, we're not going to have a dungeon lounge forever. Soon enough we will be getting some bright orange decorations to liven the room up a bit. One step at a time!
To show the scale, that's a 7 foot couch it's hanging over…I wonder how Joe fit this in his car?
Probably like when Ace Ventura drives. You know what I'm talking about!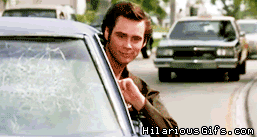 As the lounge is quite long and narrow rather than your standard square room of most houses, I think it really helps make the space look wider and less crowded. We have 2 large windows – one at each end – in here and it helps to bounce that light around and keep it bright. With it being a long room, sometimes there is the illusion of the ceiling looking lower than it actually is as well. The mirror helps to break up that huge empty wall space we have, which is something I've been longing to do for ages.
Considering the size and weight of it, at £85 I think it was a bargain. What do you think? Like it?