As promised, this is a continuation from my last bathroom related blog post. Here's what happened in our bathroom this week.
Monday
We bought a towel radiator at the weekend. Keith (bathroom fitter) reserved it for us at trade price which included all the valves and heating implements. This was installed and is functional.

The shower piping is now fully installed and has been tiled. Now that there's no exposed brickwork, it looks amazing. Just a few touch ups needed. The drilled areas are in preparation for the shower heads.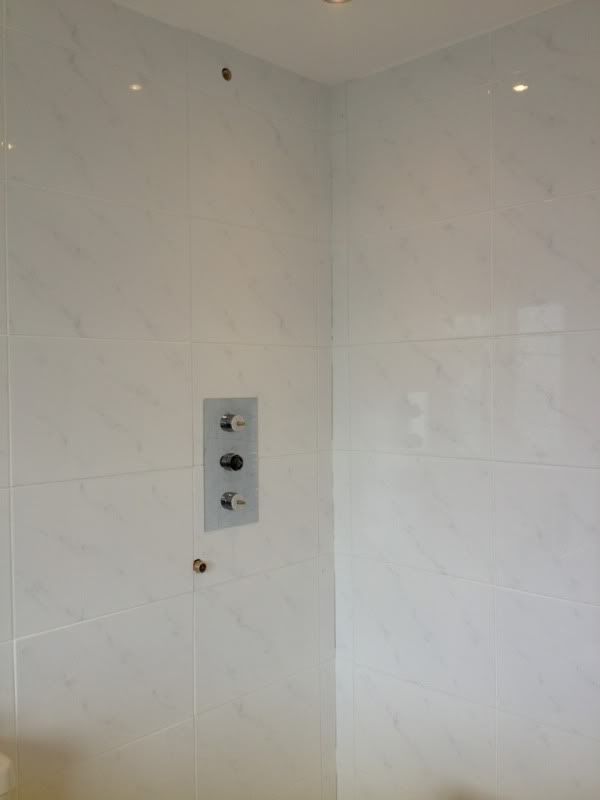 Tuesday
The floor is IN! The bathroom door was removed so the floor tiles could be done easier. As always, sorry for the pants pictures! We weren't allowed to walk on the tiles whilst they sealed/dried/whatever they were doing! So these are sneaky peaks from the hallway. For so long I get out of the bath all clean, only to find glass/plaster in my feet 10 minutes later. I won't be sad to say goodbye to those floorboards.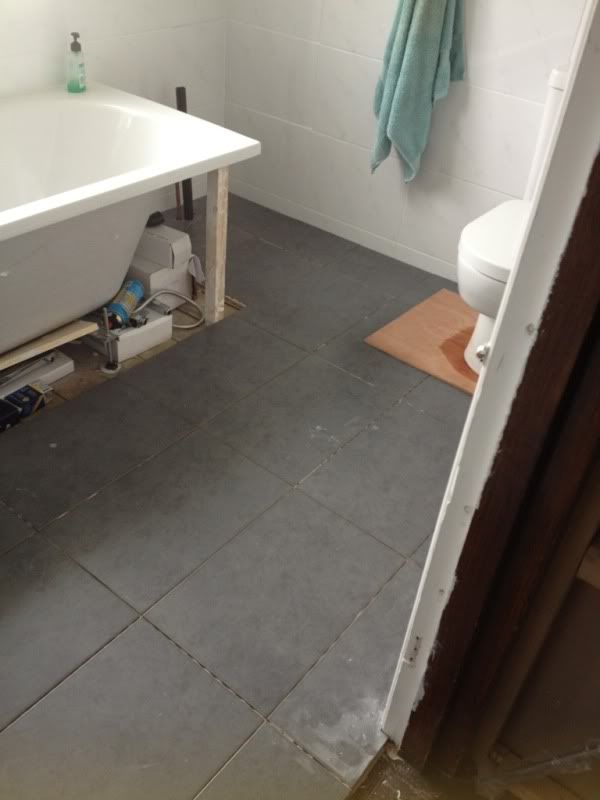 Wednesday
The shower is DONE!
Of course, here's Joe with yet another pretend shower! 🙂

The doors are on. Everything is sealed.The mixer and shower heads and attached. The floor has also been grouted (but needs a good clean).

What really impressed me is that the shower doors were actually an inch or so too short to fit our gap. We never realised this because they've been living in the kitchen since they were ordered.
I guess that's what you get when you buy a bathroom off eBay knowing nothing at all about bathrooms!
But, Keith made it look as if they were the perfect fit. Really impressed.
Thursday
The final bits and bobs were done on Thursday. The bath panel was fitted, the sink and toilet have been properly installed and voila, we have a bathroom!
The sink has been living in the second bedroom for longer than I care to remember, and we've had a pile of cut up tiles in there too for months. I love that this is all going to be gone. The house will look so much neater!
I'm going to do a post later this week with some good pictures of the finished result. Yippee!
Karen x