It's no secret that I'm a bit of a hoarder. I know that it drives Joe absolutely mental because he loves the house to be nice and tidy. It's not that I don't, of course. I just really struggle to throw things away.
However, I made him a promise that I would eventually get rid of what I didn't want, and organise what I want to keep.
Well, I don't think I'm doing too badly. I started off with our bedroom and admittedly, it's taken me a while. On my side of the bed I had a large number of boxes and a few piles of stuff – I honestly have no better way to categorise what it was. It was just stuff.
In fact, when I painted said bedroom I threw this pile onto the bed. Bit embarassing…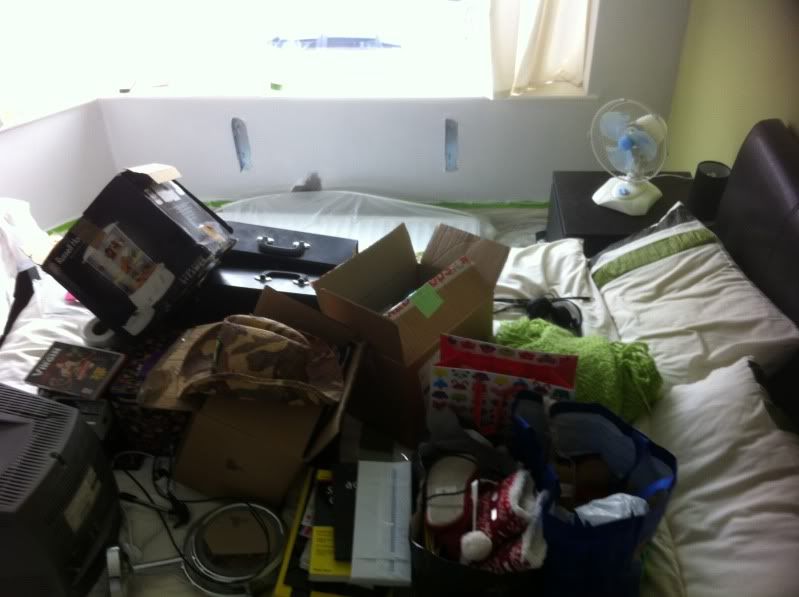 And for good measure, here is Pebbles rolling around in it…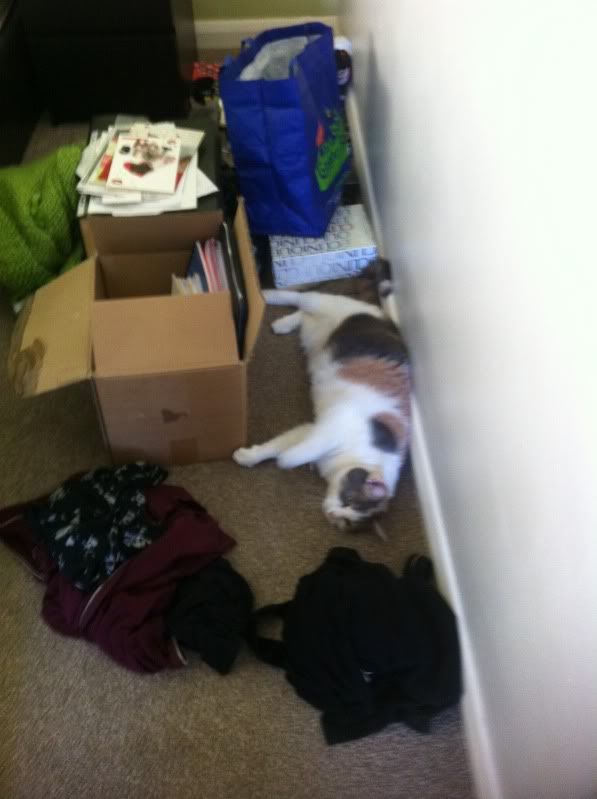 I saw a programme recently about hoarders on Channel 4 (It was called The Hoarder Next Door – Anyone else watch it?) and I never want to end up like that. They struggled to part with rubbish. And I don't mean useless ornaments that we all have. But, actual rubbish. The episode I saw had a fella that couldn't bring himself to empty the cat's litter tray. Ew.
(Joe, if you ever think I'm messy, please just think how lucky you are, that I'm not quite so bad! :))
Needless to say, I did some extra tidying around the house that week. Completely unrelated of course…
It did get me to thinking though – I'm not alone! In fact, I came across this blog post on a blog I read regularly, Popcorn on the Stove, and it had some great tips and ideas on how to prevent clutter in the future.
Time to put this into action. I'm on a mission to get rid of a lot of my"stuff". I'll be putting some of it on eBay (can't be a bad thing for the wedding fund!), donating some to charity, and binning what I can – although, I'd much prefer to find new homes for things. Green power woo!
Our bedroom looks so different now without all the clutter. It looks a lot larger and unfortunately, because all of our rats have now died, we've removed the cage.
On a positive, the room is now finished. I touched up the paintwork over the Jubilee bank holiday weekend, which I've been putting off for ages, and gave it a really good clean. Once I've put some stuff up on the walls (a shopping task for next payday), I'll finally get some pictures of the finished result!
I did try and use a new app on my phone where you can do panoramic images. I'm not sure how well this is going to translate…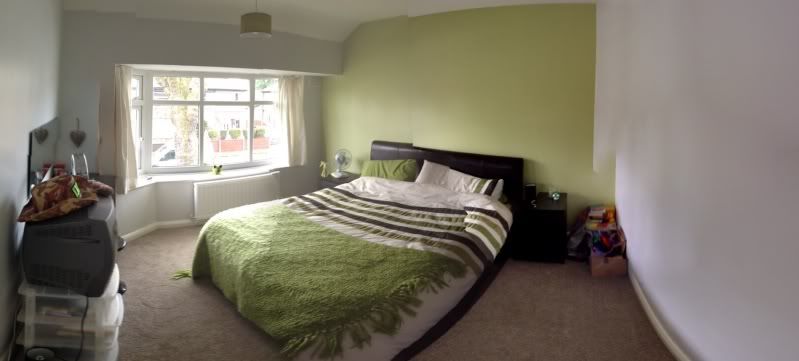 I went through my wardrobe and donated to charity (or my sister!) any clothes that either don't fit, or that I haven't worn in more than 6 months. It was brutal but it felt like a huge weight had been lifted.
Next, I'll be clearing under the bed and the attic to see where we can make more room and shift what we don't want.
Wish me luck!
In the meantime, I always have this excuse to fall back on…

Karen x